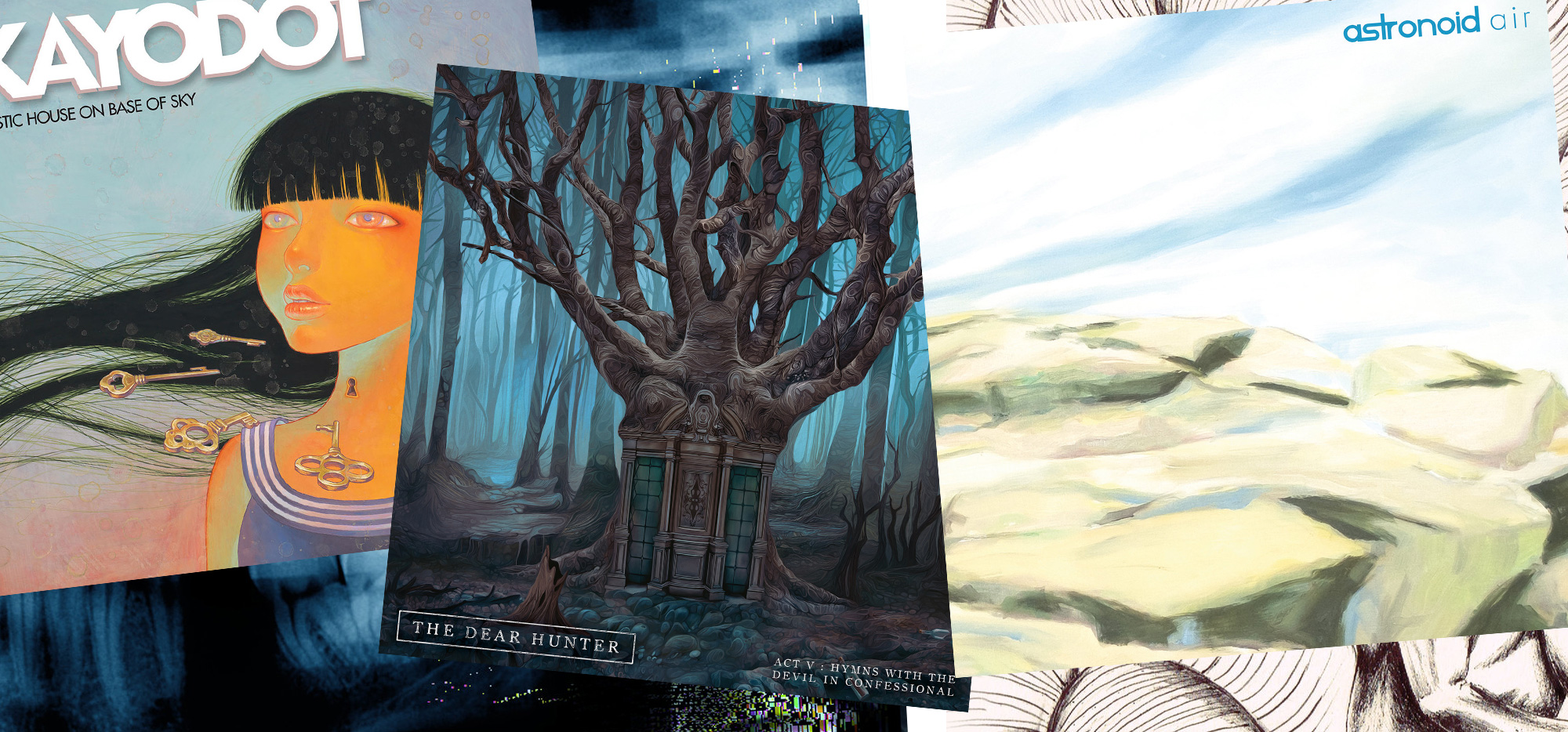 Without any additional comment about the past 12 months, here are some things that didn't suck balls.
Rare Futures — This Is Your Brain On Love
The long-awaited followup to Dreams of Water, the debut album from the band formerly known as Happy Body Slow Brain, did not disappoint. Led by multi-instrumentalist and sole original member Matt Fazzi, the band has weathered multiple lineup changes during the course of TIYBOL's recording, but the finished product is a seamless representation of the band's stable identity. Rare Futures draws from influences ranging from R&B to synth pop to post-hardcore to inform a unique sound that while highlighting the technical prowess of each contributor, never loses sight of the hook.
---
Astronoid — Air
We're not alone in recognizing the unique brilliance of this critically acclaimed album. Astronoid fuses black metal, dream pop, and other genres that we usually don't pay much attention to into a cathartic, uplifting tour de force.
---
 The Great Wall — The Iron Triangle: Bureaucracy
The second chapter in The Great Wall's Iron Triangle EP trilogy continues where the project left off after frontman Chris Waldrep's throat surgery resulted in a two-year hiatus. Lying at an unlikely stylistic intersection of Adebisi Shank, The Dillinger Escape Plan, and Propagandhi, Bureaucracy is another frantic, melodic, and complex release from a shamefully unknown band. A djent-y reimagining of The Bad Plus' "Physical Cities" caps off the band's short but powerful return.
---
The DRX — Throughout Within
The first LP from New York drummer/singer/keyboardist/composer Dan Romans' ever-evolving collective is an intriguing concept album reflecting on the hollowness of modern life. Recruiting a cast of guest musicians from such underground notables as Kayo Dot, Stern, and Romans' longtime collaborator, guitarist Ryan Hare, Throughout Within weaves progressive metal, modern chamber music, and an odd but effective pop sensibility into an ambitious and unpredictable journey.
---
British Theatre — Mastery
Former Oceansize frontman Mike Vennart has kept busy since the demise of the seminal UK alt-post-space-prog-metal-etc. band. Following last year's release of an excellent solo album, The Demon Joke — performed essentially by Oceansize with a new rhythm section — Vennart and Oceansize keyboardist Richard "Gambler" Ingram have revisited their long-running side project British Theatre. Where the band's earlier EPs were more or less a continuation of the mellower side of Oceansize explored on the understated (and underrated) Home and Minor EP, Mastery represents a departure. Having exorcised their rock *ahem* demons on Vennart's solo release, he and Gamber have moved in to more synth-driven territory. Mastery is primarily an electronic pop record, featuring no live drums and minimal guitars, but retaining the off-kilter sense of timing, complexity, and the mix of aggression and vulnerability that have been the trademark of projects spanning its creators' careers.
---
Kayo Dot — Plastic House On Base Of Sky
Toby Driver's ever-morphing main project delves futher into the retro-futurist black hole first explored on 2014's nearly flawless Coffins On Io. The music here is even less penetrable, piling layer upon layer of drums, synths, and barely identifiable guitars into its spiraling, atonal compositions. PHOBOS probably requires the most effort to "get" of any Kayo Dot release since 2010's bleak Coyote, but repeat headphones listens reveal Driver's meticulousness and originality.
---
The Dear Hunter — Act V: Hymns With The Devil In Confessional
After reviving the long-dormant "Act" series of albums in 2015 with the somewhat lackluster Rebirth In Reprise, prolific bandleader Casey Crescenzo has within a year followed it up with easily the best Dear Hunter record since 2009. Peppered with familiar motifs from the previous four Act records while staking out its own new territory, Hymns provides a dramatic and heartbreaking end to the story of the band's titular character, his misadventures, and quest for revenge, while maintaining a unity of sound uncommon to the usually eclectic project. Bay Area collective The Awesöme Orchestra and fellow Rhode Island prodigy Gavin Castleton flesh out the lineup here and help execute the final "rock" album (whatever the hell that portends) in the six-part series.
---
Honorable mentions (ie. stuff we liked but probably didn't listen to enough to review):
Dysrhythmia — The Veil of Control
Visceral Skies — Wormhole Karma