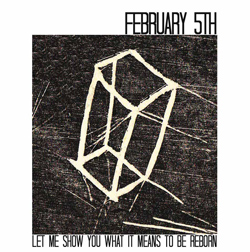 4 out of 5
2012, self-released
If I'd had to predict a handful of local bands who would never feature a string or synth arrangement on one of their albums, Domeshots would definitely top that list. Well, I was half right.

Febrary 5th emerged recently as the reincarnation of that band, which had existed since the late '90s and released two albums, 2004's "Self-Titled" and 2006's "Reception." Though often impressed with their frantic live show and individual musicianship, Domeshots as a whole always narrowly failed to fully win me over. Their persistent nu-metal influence and somewhat one-dimensional tonality caused me to keep them at arm's length, more than happy to watch their set opening for Throught Crime or Fingertight, but rarely convincing me to buy a ticket. With this release under their new name, I'm finally sold. With the exception of bassist Eric Tamo (who is present on this recording, since replaced by Jon Short), February 5th is very much the same band, but with a few subtle adjustments for the better.

While technically a product of Domeshots before the change in lineup and moniker, February 5th's debut demonstrates a band moving beyond their own earlier boundaries, and embracing pop in a much more deliberate way while still maintaining their identity; it's a familiar route but one so often screwed up. Tracks like "MEES" and "Wednesday at 5:30 p.m." feature verses as chaotic and pummeling as anything in the past lineup's catalogue, but bring a greater degree of melody and depth to the formula, building their peaks around cathartic, early Deftones-esque choruses and fully showcasing frontman Danner Alexander's impressive vocal range. Guitarist Jim Seishas' work is noticeably more intricate and varied, complementing his usual borderline-grating riffing with layers of acoustic embellishment, playful wah-slide leads and other tasteful overdubs. Dave Criss' drumming is nuanced but powerful and Tamo dials back his crunching bass to be more subtle and complementary to the whole. The aforementioned strings add depth to the first single, "Song of the Dead Life Poetic," a mid-tempo anthem sure to suprise Domeshots faithful with its subdued funk verses giving way to sweeping melodies of the big, lush chorus.

The songwriting throughout is ambitious and engaging, beginning with the three-part, 12-minute opener "Box," (the finished reproduction of Domeshots' earlier Inner Space EP) which shows off the first of several examples of the band's newfound embrace of long buildups. Alexander's Mike Patton-esque vocals soar over the dense syncopated instrumentation of the first third, weave into the airy acoustic middle and finally retreat into his familiar maniacal screams in the conclusion. By the second track, the tone has been well established for the rest of the adventurous debut album.

February 5th has managed a transition that brings so many bands into a death spiral of banality — they've polished their sound and successfully written a record including pop-metal ballads without losing their edge. The lyrical theme of rebirth prominent throughout the album and in the title works with the music, rather than seeking to justify it. While the lyrics themselves are probably the least interesting element at play, they're not bad by any means and fit the theme adequately — besides, with delivery this good, occasional poetic shortcomings are easier to overlook.

I'm not sure if it's intentional but the guitar motif in the closing title track, "What it Means to be Reborn," bears a strong resemblance to "More," the opener on their debut LP, released almost a decade ago. After hearing the evolution put on display in February 5th's unveiling, I find it hard to believe that this bringing of things full circle could have been an accident. They've proven themselves too clever for that.
- JC